"Reflectivity for HEYEX2 represents a groundbreaking solution in the field of optic nerve head and glaucoma analysis, providing healthcare practitioners with unparalleled tools and data for enhanced glaucoma care"
We are thrilled to announce that Reflectivity is now seamlessly integrated into HEYEX2 through the Heidelberg Appway interface, marking a significant advancement in optic nerve head analysis. Powered by state-of-the-art AI algorithms, Reflectivity offers a comprehensive structural analysis of the optic nerve head in 3D, as well as a precise glaucoma risk score, all derived from a single OCT scan of the optic nerve head.
With Reflectivity, users can effortlessly initiate the analysis process by simply dragging their OCT volumes (whether raster or radial) to the Reflectivity icon within HEYEX2. What sets Reflectivity apart is its ability to provide a rich array of structural parameters that describe both neural and connective tissue within the optic nerve head, including critical lamina cribrosa parameters. This achievement is made possible through our dedicated efforts to enhance deep tissue visibility in OCT scans, a capability unmatched by any other provider.
Once a scan is processed via our cloud-based services, clients receive a comprehensive patient report. This report not only includes a precise glaucoma risk score but also presents a comprehensive set of vital metrics. Additionally, it offers detailed information regarding the quality of the AI-based segmentation, ensuring that healthcare professionals have access to the most valuable insights for patient care and assessment. An example of a patient report is shown below.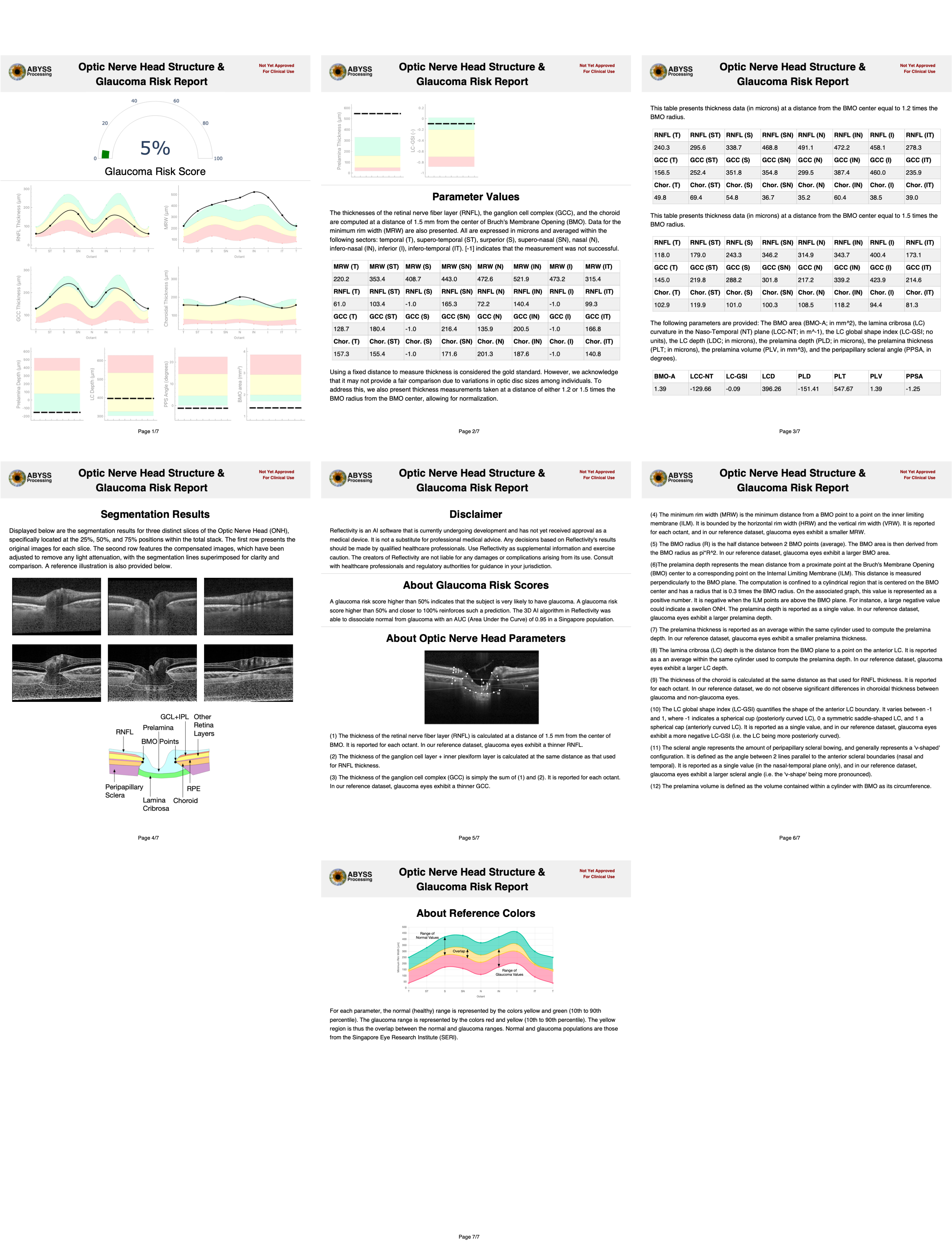 Registration for Reflectivity Cloud-Based Services
1. License Purchase

To access Reflectivity Cloud-based services seamlessly through HEYEX2, clients are required to follow a straightforward registration process:

To begin, clients need to register an account at this link: https://abyssprocessing.com/business/index.php
These are the credentials (login and password) you will need to use in Heyex2 for reflectivity.

Through this link, you will also be able to buy tokens (1 token = US$1 = 1 glaucoma report) or an unlimited (monthly or yearly) license to use Heyex2.



2. Contact Us

Please feel free to contact us at contact@abyssprocessing.com if you need help with the registration process. Our team will guide you through the necessary steps to get started.

3. Login Credentials

Upon completing the registration process and obtaining the license, clients will receive unique login and password credentials. These credentials are essential for activating Reflectivity within HEYEX2.

4. Trial Versions

We understand the importance of ensuring that our services meet your specific needs. As such, we offer trial versions of Reflectivity for a limited number of scan processing tasks. All our clients will receive 50 tokens upon sign-up.

5. Pay-Per-Use Model (Optional)

We are happy to share that all token and license purchases can now be processed through PayPal. We are also more than happy to accommodate other modes of payment, so please feel free to contact us.

We value your interest in Reflectivity and are committed to providing you with the most suitable licensing and usage options. For inquiries or to initiate the registration process, please reach out to us at contact@abyssprocessing.com. Our team is here to assist you in getting started with Reflectivity, tailored to your preferences and needs.
Terms and Conditions for Reflectivity Cloud-Based Services
Effective Date: September 1, 2023
1. Acceptance of Terms

By accessing or using the Reflectivity cloud-based service ("the service") provided by Abyss Processing ("we," "our," or "us"), you agree to be bound by these Terms and Conditions. If you do not agree to these terms, please do not use the service.

2. License and Access

2.1 Grant of License: Subject to your compliance with these Terms and Conditions and payment of the applicable license fee, we grant you a limited, non-exclusive, non-transferable, and revocable license to access and use the service for a period of one (1) year.

2.2 Access Credentials: Upon purchase of a license, we will provide you with unique login and password credentials ("Access Credentials"). You are responsible for maintaining the confidentiality of your Access Credentials and for any actions taken through your account.

3. Use of the Service

3.1 Integration with HEYEX2: The service is designed to work in conjunction with the HEYEX2 software provided by Heidelberg Engineering. You may use the service to submit OCT scans of the optic nerve head via HEYEX2 for processing by our servers.

3.2 Data Processing and Results: We will process the data submitted through HEYEX2 and provide you with the results in PDF format, which can be accessed and displayed within HEYEX2.

4. Privacy

Your use of the service is also governed by our Privacy Statement, which outlines how we collect, use, and protect your personal information and data. By using the service, you consent to our privacy practices as described in the Privacy Statement.

5. Intellectual Property

5.1 Ownership: The service, including all content and intellectual property rights, is owned by us or our licensors.

5.2 Feedback: We welcome feedback and suggestions regarding the service, but any such submissions shall become our property, and we may use them without obligation to you.

6. Disclaimer of Warranty

The service is provided "as is" and "as available" without any warranties, express or implied, including but not limited to the implied warranties of merchantability, fitness for a particular purpose, or non-infringement.

7. Limitation of Liability

To the fullest extent permitted by law, we shall not be liable for any direct, indirect, incidental, special, consequential, or punitive damages arising out of or in connection with your use of the service.

8. Changes to Terms and Conditions

We reserve the right to modify or update these Terms and Conditions at any time. Any changes will be effective upon posting the revised terms on our website. Your continued use of the service after such changes constitutes your acceptance of the updated terms.

9. Termination

Your license to use the service is valid for one (1) year from the date of purchase. We reserve the right to terminate or suspend your access to the service at the end of the license period or at any time for violation of these Terms and Conditions.

10. Governing Law

These Terms and Conditions shall be governed by and construed in accordance with the laws of Singapore, without regard to its conflict of law principles.

11. Research Use Only

Reflectivity is not currently approved as a medical device and is not intended for diagnostic purposes. It is exclusively designed for research use and should be employed solely for research activities that have obtained the necessary ethics approval or Institutional Review Board (IRB) clearance as required by the specific regulations and guidelines of the country in which the client is located.

12. Contact Us

If you have any questions or concerns about these Terms and Conditions, please contact us at contact@abyssprocessing.com.
Privacy Statement for Reflectivity Cloud-Based Services
Effective Date: September 1, 2023
1. Introduction

Abyss Processing ("we," "our," or "us") is committed to protecting your privacy. This Privacy Statement explains how we collect, use, and protect your personal information when you access and use the Reflectivity cloud-based service ("the service"). We do not collect personal data from our clients.

2. Information We Do Not Collect

We want to reassure our users that when you use Reflectivity, we do not collect any personal data or information that can be used to identify you or your patients. We understand the importance of data privacy, and your trust is paramount to us.

3. Data Security

While we do not collect personal data, we take data security seriously. We have implemented industry-standard security measures to protect the data you send to us for processing. This includes measures to safeguard against unauthorized access, disclosure, alteration, and destruction of data.

4. Use of Cookies

Reflectivity does not use cookies or any tracking technologies to collect data about your browsing habits or interactions with the service. You can use our service with confidence, knowing that your privacy is our top priority.

5. Third-Party Integrations

Please be aware that Reflectivity integrates with the HEYEX2 software from Heidelberg Engineering for data submission and retrieval. While we do not collect personal data, you should review Heidelberg Engineering's privacy policies for information on how they handle data.

6. Changes to this Privacy Statement

We may update this Privacy Statement to reflect changes to our data handling practices. Any changes will be posted on our website, and the Effective Date will be updated accordingly.

7. Contact Us

If you have any questions or concerns regarding this Privacy Statement or our data handling practices, please contact us at contact@abyssprocessing.com.